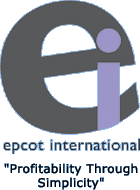 Primary Services
About the President
Experience
Chemistries Improved
and/or Developed
Products Manufactured
and/or Developed
Partial Client List
Patents, Publications And Quotations
Testimonials & Book Reviews
Contact Us
About the President
[Printable Version]
Before founding EPCOT International, Girish Malhotra, PE worked in various capacities in chemical manufacturing, technology development and operations fields.

Most recently, Mr. Malhotra gained experience as Director of Corporate Research & Technology for Morgan Adhesives Co. (MACtac), a $500 million international division of Bemis Co., manufacturer of packaging films and pressure sensitive products, from 1991-1996. For The Sherwin Williams Company, a $6.1 billion dollar architectural, industrial and automotive coatings company, Mr. Malhotra worked as the:
Business Development Project Director (1987 -1991)
Director, Process Engineering (1985 -1987)
Plant Manager, Antioxidants and Resins -Fords, NJ (1983 -1985)
Technical Director, Antioxidants and Resins -Fords, NJ (1981 -1983)
Production Area Manager, Corrosion Inhibitors & Intermediates -Cincinnati, OH(1979 -1981)
Group Leader/Senior Process Engineer (1973 -1979)
From 1971 to 1973, Mr. Malhotra was an Environmental Protection Engineer for the State of Illinois EPA, and before that, he was a Process Engineer for EXXON.

PROFESSIONAL ASSOCIATION MEMBERSHIPS AND AFFILIATIONS
Member Advisory Board TwoFour Insight Group LLC. January 2014- May 2016
Member Scientific Advisory Board chemica oggi Chemistry Today 2014 - 2017
Online Advisory Board Chemical & Engineering News American Chemical Society (2012-2015)
Editorial Advisory Board Pharmaceutical Processing Magazine 2006- Present
Editorial Advisory Board Pharmaceutical Manufacturing Magazine 2010- Present
Editorial Advisory Board www.pharmaqbd.com 2011- 2017
Member CPhI Worldwide Expert Industry Panel 2013-present
Judge CPhI Awards panel 2016, 2017, 2018
Ask the Expert "Process Simplification" Chemical Processing Magazine
Ask the Expert "API Manufacturing" Pharmaceutical Manufacturing Magazine (1996 - Present)
Registered Professional Engineer in States of Illinois (73-Present) and Ohio (76-present)
Association of Consulting Chemists and Chemical Engineers 1996-2018
American Institute of Chemical Engineers 1967 - Present
Bemis Co. Rep - Industrial Research Institute '91-'96
Toastmasters '94-'98
Who's Who

EDUCATION AND TRAINING
MBA Program; Xavier University -Cincinnati, OH; 1977-1979
M.S. Chemical Engineering; Clarkson University -Potsdam, NY; 1968
Graduate Diploma; Petroleum Refining; Indian Institute of Petroleum -India; 1966
B.S.; Chemical Engineering; Harcourt Butler Technological Institute -India; 1965

Seminars in: Drug delivery systems, radiation curing, pressure sensitive and release technologies, technology management, digital imaging, crystallization


COMMUNITY AND PERSONAL ACTIVITIES
Junior achievement counselor
CPR trainer
Judge Intel International Science and Engineering Fair 2003, Cleveland, OH
Holden Arboretum, Volunteer 2018 - present
Mentor College Now (2019-2023)
Mentor True2U 2019
Member, Rotary Club of Chagrin Highlands
Editorial Advisory Board GMPNEWS.NET 2019-2022